New BT telephone line installation - Just £75 including VAT*

If you require a new BT telephone line, we can install this for just £75 including VAT. The telephone lines we provide are still supplied and supported by Openreach.
Openreach are part of the BT Group, but are heavily regulated to ensure that no one provider has an advantage over the other. As such, we buy our lines and support from Openreach on the same basis as everyone else. Using Openreach also means that we have 100% UK coverage
*Not including new builds.
---
Focused installation appointment times - Subject to availability and area

Flexible Appointment Times are an additional charge to the £75 installation cost. Focused appointments are ideal for making sure you are not waiting in for the BT engineer any longer than you need to.
Times exclude Public and Bank Holidays, and only on Monday's to Friday's, and subject to availability and area.
---
Pick a Gold telephone number for your new line - Just £20 including VAT

For a small fee we offer a choice of telephone Gold and Silver telephone numbers which are available on the local BT exchange, hence you can now have a number to make it easier for people to remember.
Gold numbers must be purchased at the time of placing your order for a new line. Lines can be renumbered at a later date, but will take longer to complete.
---
NO long term telephone contracts - Just 30 days rolling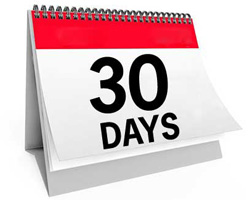 No-long term contract and no termination fees.
All new lines are just on a 30-day rolling contract term. All billing is done via Direct Debt and there are NO line disconnection charges when you cancel or move your line. Guaranteed.
How your first bill is calculated
The invoice will show a charge for the whole month in which the invoice is issued and for the whole of the following calendar month. (2 whole months.) This advance payment means you'll have covered your 30 day notice period for cancellation, allowing us to terminate your line for you the same day you notify us should it become necessary.
If you've signed up to our service part way through a month, your first bill will also include a charge from the date the new service went live to the end of the part month.
Please remember to tell the bill payer that the name of our Direct Debit will show on their bank statement as "Go Cardless".
---
Get a BT 4600 cordless telephone - Block 100% of cold calls
The BT4600 nuisance and cold call blocker cordless phone range includes BT's Virtual Assistant to block up to 100% of cold and nuisance calls. The BT4600 comes with a new one touch call blocking button so you can block callers from ever getting though again at the touch of a button. It also comes with BT's unique Virtual Assistant, which means you'll never have to speak to another cold caller again*
---

---

---
We never forget, "trust cannot be bought; it must be earned", so we decided to join TrustPilot.
If you have any feedback please do not hesitate to voice your opinion.
---