The BT4600 Blocks 100% Of Unwanted & Cold Calls
---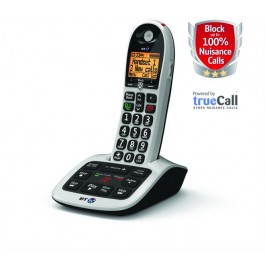 Blocking Cold and Unwanted Calls - While the telephone is an essential lifeline, it can also bring problems for older people: mum or dad may be confused by cold and telemarketing calls, agree to order products and services they don't need, or may be taken advantage of by unscrupulous sales people and scammers. The BT4600 trueCall cordless phone stops these callers in their tacks.
BT Virtual Assistant to block 100% of Nuisance Calls*
The BT4600 cordless phone comes with a new one touch call blocking button so you can block callers from ever getting though again at the touch of a button. It also comes with BT's unique Virtual Assistant, which means you'll never have to speak to another cold caller again*
---
The BT4600 nuisance and cold call blocking features

BT Victual Assistant - BT's Virtual Assistant asks the caller to say their name, and then asks the user whether they want to accept or block the call without speaking to the caller, incorporating the award winning trueCall call blocking technology. If the number is in your contact list they will get straight through to you.
Block by Number- The BT4600 can block up to 1000 individual numbers, meaning that you really can avoid speaking to the people you don't want to. Over time, the phone learns which calls you do and don't want to take.
One touch call blocking- Simply press the one touch button if you don't want to take the call, and the caller will be transferred to the answer machine. Or if you have answered the call, pressing the call blocking button will end the call and add the number to the list of blocked numbers when the Caller ID is displayed.
---
The BT4600 has quality built-in


It's easy to use big buttons and large clear screen make it easy to dial quickly and accurately, getting away from the frustration of miss-typing numbers on smaller keypads.
This phone is ideal for anyone wanting a good-looking easy to use phone, which with its big buttons and easy to see backlit display makes a practical tool for elderly customers and those with sight, hearing and dexterity challenges.
Hearing aid compatible with amplify button to boost volume when you need it Freedom to Move in and around Your House. The BT4600 has a long outdoor range of up to 300m and an indoor range of up to 50m. Talk hands-free - bringing the callers voice into the room and letting you get on with things while you chat. With the BT4600 you can talk for up to 16 hours on a full charge, or have it on standby for up to 180 hours.
---
---
Works on all our home lines
Blocks ALL unwanted calls
Large full graphic disply with back light
Listed contacs get straigh through
PIN for Mobile and Premium Rate numbers
Free next day UK shipping
Screens ALL incoming calls
200 name and number directory
Record up to 60 minutes of messages
Slow playback of messages
---
Big Button Telephones