Phone Line only for Retired People - £12.60 a month (cheaper than BT)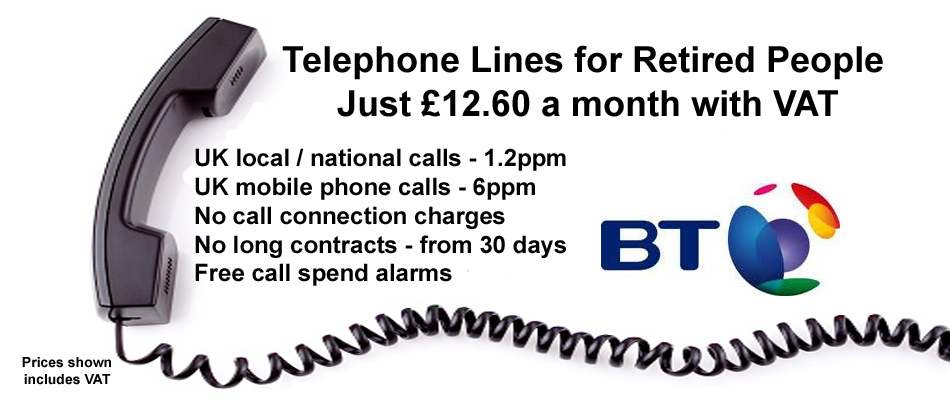 ---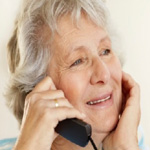 UK's Cheapest Line Rental - No hidden costs or gimmicks, just low cost calls from your landline
At Simple Telecoms we understand that there is a huge number of seniors and pensioners out there that don't need all the bells and whistles and broadband services that other phone companies tie you in to.
All you need is a good Old Fashioned BT telephone service exclusively for pensioners, with good customer care, easy to understand bills, easy to use, and to keep in touch at the lowest possible call cost. We offer a personal, efficient and friendly phone only service that's tailor made to your individual needs. We are happy to work closely with family members, Community Health Workers and Care Homes.
---
NO connection fees - Saving 100% against BT, TalkTalk, Virgin and Plusnet

Unlike BT, TalkTalk, Sky, Virgin, Plusnet and the Post Office we DO NOT charge any call connection or setup fees on ANY of our chargeable calls, With the exception of some calls that attract connection charges (eg Directory Enquiries, 084,087 nos) saving you a massive 100% on every changeable call that you make.
This can make a substantial impact to a phone bill when you consider BT Retail and Plusnet charge 21 pence* call connection, with TalkTalk and the Post Office charging 18 pence* connection / setup fee.
(*prices checked on the1st September 2017)
---
Senior Line - BT Telephone Lines for the Elderly and Retired
NO call connection charges
Daily / Monthly spend bars

Bills can be sent to a relative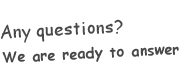 ---
FREE Outbound Call Baring - Now included FREE on ALL lines as standard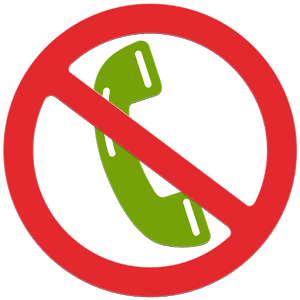 To safeguard all our customers, call barring for International and Premium rate numbers will be applied automatically to the telephone line.
If you wish to opt out of these please contract customer service, and we will happy to remove these for you.
For barring calls to mobile phones, this is an opt in service.
Please contract customers service to opt in the mobile barring service, this is free of charge
---
Call Spend Alerts - Monthly speed limits - At No extra cost

At NO extra charge we offer call spend limits for your complete peace of mind. If your telephone number reaches a daily or monthly spend limit (set by you) we let you know.

As a further safeguard we can bar all outgoing calls if the calls spend hits your set monthly ceiling limit, so no unexpected high bills. If you ever need to make a change to these limits, just call and let us know.
---
No Long Term telephone contracts - Just 30 days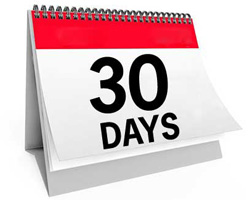 No long term contract and no termination fees.
All line transfers, including new lines are just 30 day rolling contract terms.
All billing is done via Direct Debt and there are NO line disconnection changes when you cancel or move your line, Guaranteed.

---
Senior line cost - Prices are

Including VAT

- The UK's Cheapest Line Rental and Call Charges

Line transfer / Install cost

Restarting a BT line - £45

New BT line installs - £75

TalkTalk line transfer - £60
Virgin line transfer - £75
UK local / national - 1.2p

Transferring TalkTalk and Virgin lines - To transfer these types of telephone lines requires us to send a BT engineer to the local exchange to move the line. The £60/£75 transfer cost covers the cost for the BT engineer to do this. ** UK mobile networks O2, Orange, T-Mobile, Vodafone, H3. Other mobile networks are charged at a different rates.
---
NEW Mobile Saver - Save up to 66% on calls to mobiles for just £2.50 extra per month inc VAT

Add £2.50 per month to our standard line rental or any call plan and you can save up to 66%** on calling UK Standard Mobiles.
By adding our Mobile Saver add-on, you can reduce the call cost to UK standard mobiles to a flat rate cost of just 2p per minute including VAT, 24/7, with NO call connection charges.
Senior line Telephone call Packages - Prices are

Including line rental & VAT
Includes line rental & VAT

First 60 Mins free per calln

Free Outbound Call Barring

Inclusive Weekend/ Ev calls
Includes line rental & VAT

First 60 Mins free per call
Free Outbound Call Barring

Includes line rental & VAT

First 120 Mins free per call
Free Outbound Call Barring

Free calls are up to 60 / 120 minutes duration per call. Calls exceeding 60/120 minutes will be charged at our advertised rate. "Inclusive" calls are to dialing codes starting 01, 02, and 033 as applicable to call plan type. Re-dial before 60 / 120 minutes to avoid call charges. Weekends are Friday 00.01 to Sunday 23.59. Evenings - Weekdays 18.00 to 08.00. Opt in required for Withhold Number service. ** Call saving based on calling a UK standerd mobile at peak time, at 6ppm.
---
*Limited Offer - Get a FREE BT Cordless DECT telephone on the Anytime call plan

This offer is available to the first 1,000 eligible new residential customers who connect to our Anytime call plan between the 15th November 2017 to the 31st January 2018. Please Click Here for more details.
---
"I would like to take this opportunity to thank you for a speedy and very professional service.The phone line was up and running this afternoon - faster than you promised ( ! ) which is a great relief to me knowing my Mum can contact the family when she is discharged from hospital tomorrow.Thanks again" Mary Ramsay 14.12.2017

---
"Just to let you know, Chris from Openreach connected mum's phone this morning around 9am.Just like to thank you from all of us for all your help with this. We are very grateful for all your continued help" Kind regards Shona Marshall - 20.11.2017

---
"I am very grateful to you. You have been so helpful and understanding. I will pass on the excellent quality of your service to other 'elderlies', in the village, who do not use computers." Regards, Myrna - 09.11.2017

---
"Hello Tony,Just wanted to say thanks for a brilliant service. Within 16 minutes of your email confirming our order my mother in laws phone was working".Thank you, Richard. - 24.10.2017

---
"Thank you so much for an easy operation! The family are already delighted being able to chat with Eileen again. She says it's like being released from prison she was so cut off.I have recommended you on Facebook" Thanks Debbie - 31.08.2017

---
"Thank you for all your help Tony you have been absolutely superb and all correspondence have been quick and so helpful. Would definitely recommend you and Simple Telecommunications. Thanks again" Kind regardsTeresa - 17.08.2017

---
"Just to say thanks for sorting everything out. So glad I found you on the internet when I was looking for a deal for mum. I will be able to spread the gospel now if I hear of others in a similar position" Best regards Jane - 18.08.2017

---
Click here to modify the text