TrueCall Blocks Cold, Unwanted Calls - Blocks up to 100% Of Calls
---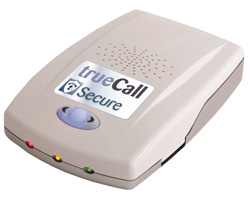 Blocking Cold and Unwanted Calls - While the telephone is an essential lifeline, it can also bring problems for older people: mum or dad may be confused by cold and telemarketing calls, agree to order products and services they don't need, or may be taken advantage of by unscrupulous sales people and scammers. trueCall Secure stops these callers in their tracks.
The unobtrusive trueCall Secure unit is quick and easy to install and can be remotely managed over the Internet so you can keep their trusted caller list up to date and monitor their call log all from your home.
---
Nuisance, Unwanted and Cold Call blocker - Profile 1

When a call arrives, trueCall Secure checks the caller's number. If it is a trusted caller then the phone rings as normal, but trueCall Secure intercepts all other callers and plays them a message. For example:
"Hello, if you're a friend, family member or invited caller please press '1', if you are a cold caller please hang up and don't call again"
Most telemarketers hang up when they hear this message, and automated and silent calls won't get through.
---
Nuisance, Unwanted and Cold Call blocker - Profile 2 - 100% Protection


If you want even more protection, trueCall Secure can completely block unrecognized callers - for example:-
"Hello, we only accept calls from friends and family members. If your call is important, please call Bob on 07752 XXX XXX or enter your code now."
This guarantees that whenever the phone rings it will be a trusted caller, while allowing other legitimate callers to get in touch via Bob.
Mum or dad will use their phone as normal, and may even forget that trueCall Secure is protecting them.

---
In independent trials trueCall blocked 98% of nuisance calls – Three times as many as the next best blocker



---
trueCall Secure - £103 Inc VAT

Blocks ALL Unwanted calls
NO Internet needed on the line

Used by over local 100 authorities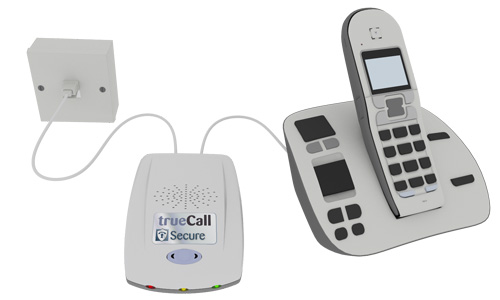 "Since the system was installed it has prevented 95 calls from abroad reaching our victim – in three weeks. We believe that the scammers were intent on relieving him of his home. How good is that?" Croydon Trading Standards
---
trueCall - Special Features


Outgoing call block

Some people suffering from dementia dial the same phone number repeatedly. They may call the speaking clock, a doctor's surgery, or a member of the family.
This can run up high phone bills and be a nuisance to the people who receive the calls. trueCall Securer's outgoing call barring feature allows you to block calls to certain phone numbers (or number ranges). When your relative dials one of the barred numbers they will just hear an unobtainable tone.
---

Telephone Off Hook warning

Sometimes, people will leave their phone off the hook either by knocking the phone handset out of its cradle, or by pressing the wrong button on a cordless phone handset.
This makes their line engaged and leaves them uncontactable. trueCall Secure has an off-hook warning feature.
If the phone has been taken off the hook and no number has been dialled within 30 seconds the announcement "One of your telephone handsets is off hook - please replace it" is repeatedly played through the speaker until the handset is replaced.

---
*trueCall comes with one years included online access. After which if you wish to continue the online access there is an annual charge of £25. trureCall also requires Caller-ID service active on the line. Your telephone provider may make a small charge per month or this line service.