Switching from Virgin, TalkTalk or Shell Energy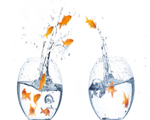 Switching from Virgin, TalkTalk or Shell Energy - Like BT Virgin Media and TalkTalk is a combined television, landline, mobile, and broadband supplier to UK households. However, unlike BT, they use their own standalone network, rather than using the BT Openreach network. Virgin and TalkTalk are known as LLU operators.
This affectively means if you wish to go back to BT, (as we use BT lines) then there is a cost to move your telephone line and number back to the BT national network, as Virgin and TalkTalk networks are not linked to BT's.

---
Will there be an installation cost?
Yes, you will have to pay a connection charge of £48.50 to move from TalkTalk or Shell Energy, and from £95 to move from Virgin Media, including VAT to reconnect to the BT network.
This charge is made because a BT engineer will need to be sent to the local exchange to move the telephone line, and then to the cabinet located in the street, and BT charges us for this work, so in turn we just pass this cost on.
We are aware that other telecom companies seem to offer this transfer for "free". However, they will place you in to a 12 or 18 month contract and charge you a higher line rental to recover the cost that BT charges. Remember, our contracts are just 30 days. Nothing is free, it's included!
---
Will I have to pay cancellation charges to leave Virgin, TalkTalk and Post Office?
You should only need to pay cancellation charges if you leave the provider while still within the minimum term of your contract. Most Virgin Media and TalkTalk phone contracts last for 12, 18 and 24 months, so if you cancel just seven or nine months into your contract you could be hit by substantial termination fees.
You may also have a phone call from your provider's customer retentions department, where you may be offered money-off deals and other incentives to stay. If these deals fail to sway your decision, be firm and repeat your intention to cancel.
---
Can I keep my Virgin, TalkTalk or Shell Energy phone number?
In most cases keeping your Virgin,TalkTalk and the Shell Energy telephone number is not a problem. When you tell us, you would like to keep your existing phone number we will do an Import Number Check on the BT network, just to make sure the number can be imported to BT Openreach at your address.
If the BT check indicates we can transfer your number, we will submit the transfer request to move your phone number from Virgin Media or TalkTalk, without any further action on your part.
Bear in mind this transfer of your telephone number may take a couple of weeks to complete.
---
How long will it take to switch over?
BT states that it will take approximately 10 working from the date of your call before the switchover is complete. You can request a later start date if necessary, and BT promises that you should not experience a significant loss of telephone service during the change. Although in some cases this can take up to 4/5 hours.
---