Telephone Lines in Care Homes - From £10.99 a month (cheaper than BT)
)
---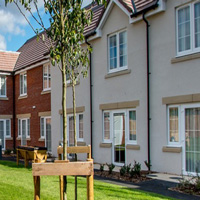 Telephone line in Care Homes and Sheltered Housing

- Moving a parent into Sheltered Accommodation, Nursing Homes, or a Care Home is a very stressful and emotional time, along with all the procedures to follow and paperwork to complete, getting a phone line installed is just another thing on the long list of things to sort out.
With our Telephone Only service for care homes and sheltered housing we will sort everything out for you, making it as stress free as we can.

We'll make the whole thing simple - We'll check what services are available in the care home room, nursing home or sheltered accommodation, and If there's already a stopped working line we can have it up and running within 24/48 hours. If we need to put in a new line, it usually takes up to 10 working days.
---
NO connection fees - Saving 100% against BT, TalkTalk, Virgin and Plusnet

Unlike other telephone providers like BT, TalkTalk, Sky, Virgin and Plusnet we DO NOT charge any call connection or setup fees on ANY of our chargeable calls, with exception of our Super Saver line rental service, and calls that attract connection charges (eg Directory Enquiries, 084,087 no's) saving you a massive 100% on every changeable call that you make.
This can make a substantial impact to a phone bill when you consider BT Retail and Plusnet charge a 23 pence* call connection fee, with TalkTalk charging a 22 pence* connection / setup fee.
(*BT/TalkTalk price as of the 12th November 2018)
---
Low Cost BT Telephone Line for Care Homes and Sheltered Housing

g

No call connection charges
TalkTalk /Virgin transfers
3 call packages to pick from

Call charges upto 89% lower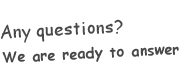 ---
No Long Term telephone contracts - Just 30 days rolling

No long-term contract and no termination fees. All new lines and like for like transfers are on a 30-Day rolling contract, with 30-days notice.

New telephone lines and telephone line transfers from other providers including TalkTalk, Virgin, Sky and Plusnet are also on just our 30-day rolling contract. Our billing is done via Direct Debt and there are NO line disconnection changes when you stop or move the telephone line.

---
The UK's cheapest line rental and call charges - Prices Include VAT
When comparing prices, you may be told by other providers that there is no cost to transfer to their telephone service/s. However, BT do make a charge to all providers for the work to transfer or install a line, which is why we make charge. The cost for installing the line charged by BT is the same for all providers.
So, it's likely that, if they do offer to do this for free, they will include it as a hidden cost, and higher line rental, call charges, call connection charges, as well as tie you into a long contract so that they can recoup it. Nothing is free, it's always included!
Just click the tabs below for more information and cost
New BT Line £65.00
Transfer a BT Line £17.99
restart a BT line £45.00
Other providers
---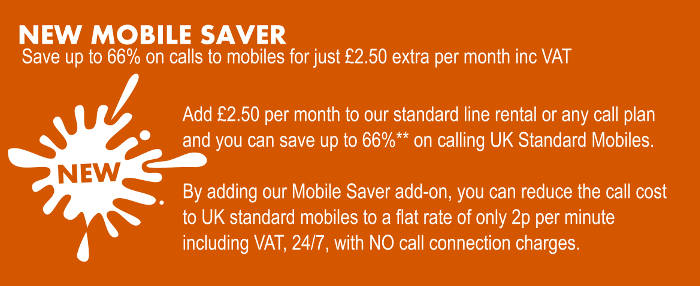 ---
Lowest telephone only line rental - Price Includes line rental & VAT
We offer the UK's best value telephone only line rental, all offering great savings, and still on our 30-day rolling contract service. Just click the tabs below for more information and cost.
super saver £10.00 per month
call charges
fault repeir level
extra services
Senior line telephone call packages - Prices Include line rental & VAT
basic line £12.60 per month
call charges
fault repair level
extra services
weekend & evening £14.99 per month
call charges
fault repair level
extra services
anytime £20.00 per month
call charges
fault repair level
extra services
anytime + £28.50 per month
call charges
fault repair level
extra services
---
Opt in required for Caller ID & Withhold Number service. * Included UK mobile minutes are for mobile networks O2, Orange, T-Mobile, Vodafone, H3, and EE (FM1, FM3, FM4 ,FM5 and FM6) at any time.
UK Standard Mobile charges applies unless the call is included in a call plan or the number being dialled is one of the Premium Mobile Numbers starting with the following numbers below.
07451, 07520, 07744, 07755, 074181, 074184, 074187, 074189, 074409, 074518, 074519, 074520, 074521, 074522, 074523, 074524, 074525, 074526, 074570, 074571, 074573, 074575, 074584, 074650, 074651, 075202, 075203, 075205, 075371, 075588, 075894, 075895, 075896, 075897, 077001, 078221, 078229, 078920, 078921, 078939, 079781, 079782, 079783, 079786, 079787. Other mobile networks are charged at a different rate. Included UK landline calls are subject to a Fair Usage Police (FUP) Click here for more information
---
Get the BT 4600 cordless telephone - Block 100% of nuisance calls
The BT4600 nuisance and cold call blocker cordless phone range includes BTs Virtual Assistant to block up to 100% of cold and nuisance calls. The BT4600 comes with a new one touch call blocking button so you can block callers from ever getting though again at the touch of a button. It also comes with BT's unique Virtual Assistant, which means you'll never have to speak to another cold caller again*
---

---
We never forget, "trust cannot be bought; it must be earned", so we decided to join TrustPilot.
If you have any feedback please do not hesitate to voice your opinion.
---

At Simple Telecoms we are committed to supplying our customers with not only good value telephone only solutions but ensuring that our pricing and services are as clear and transparent as possible. Our industry is filled with gimmicks, catches, small print and commitments.
We prefer to offer a simplistic view of telecoms with to the point phone call charges and billing. The majority of our customers do make significant savings compared to their existing suppliers, and if you are not completely satisfied, we provide you with the flexibility of 30 day minimal contract period.
---