Mobile phone service for seniors and retired people from £9.99 a month
---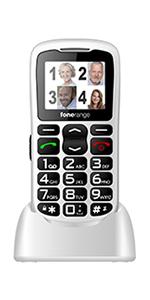 Finally, we can confirm our new mobile phone service for the elderly is now live. Our O2 or Vodafone hosted service offers convenient simple package with unlimited calls to UK standard numbers, and unlimited text messages.
Using the the Doro 580 Secure mobile phone on our new mobile service its ideal for those who may otherwise be housebound, giving them the confidence to know that if needed, family and friends are simply a press of a button away.
Doro Secure 508 is a minimalistic handset yet offers a wide variety features, giving you a panic button and phone all in one simple handset.

For added safety and security
On the front there are 4 speed dial keys labeled A-D, and numbers of friends or family can be pre-programmed. For added safety and security on the back of the device is an assistance key; with a simple press a text message is sent to all recipients, and a call is also made to the first number that has been programmed. Another added benefit here is when the assistance call is made, the device automatically goes in to hands-free mode.
---
NO long term contracts - Just 30 days rolling

We believe the quality of our Simple unlimited based SIM mobile phone service should be a simple a possible, and as such, we don't tie you into long term contracts.
Our Simple mobile telephone service is provided on a monthly rolling contract and can be cancelled with just 30* days notice. There are NO disconnection fees.

To safeguard our customers, we offer Free call barring
SIM Plan 1 - £7.50pm

500 included minutes
SIM Plan 2 - £9.99pm

Unlimited UK minutes
Data SIM's Only

Great for tablets
---
---
Mobile phone monthly plan Cost - Prices are

Including VAT



---
SIM FREE Doro mobile phones - Easy to use Mobile phones for seniors and retired people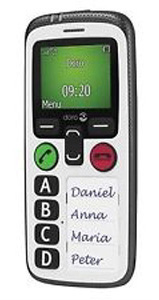 Doro 580 Secure SIM Free mobile phone - £139.99 Inc VAT

Durable and splash proof (IP54) mobile phone with four speed dial keys for calling people you rely on with one simple press.
Feel even safer thanks to an assistance button and a safety timer that can automatically dial up and send an SMS alarm to preset numbers, along with GPS localization to let people know where you are.
Contacts can be managed by a trusted relative over the internet using Doro Experience Manager.
Great safety functions, GPS localization, Speakerphone, Loud and clear sound, Adjustable frequency, Hearing aid compatible, Separated large keys, Adjustable contrast and theme, Security functions, Ergonomic Design, Easy menu handling, Hide unwanted functions.
---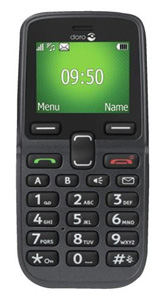 Doro 5030 Graphite SIM Free - £39.60 Inc VAT

Enjoy an easy to use mobile phone with great sound, practical features and a keypad that makes everyday calling and texting delightfully simple - all at a great price.
Doro 5030 is a good-looking phone bringing you widely spaced, convex keys, predictive text, direct memories and an SMS button for easy dialing and texting.
A crisp colour display and enhanced sound simplify usage even more. Other practical features include a torch, reminders, wake-up alarm, vibrating ringer and Assistance button.
Extra loud and clear sound, Separated, high contrast keys, Assistance button for extra safety, Torch Function
---